There is a reason the Belmar Pro consistently Goes Off, and its not just because the Surf Gods love us, which I'm convinced they do, but also because the Belmar Pro is scheduled right at the climatological peak of the Atlantic Hurricane Season.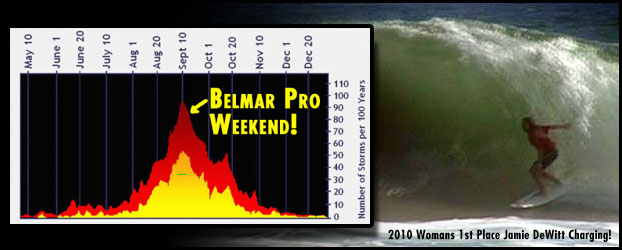 The past several years, the Foster's Belmar Pro has partnered with SwellInfo.com, a top surf webcasting site for North America, Mexico, and the Caribbean. Run by Micah Sklut,  right here in Monmouth County, the Belmar Pro gets a professional, tailored surf forecast each day of the event. Directors have also chosen to hold the contest in September to coincide with warm water, sunshine, and the peak of Hurricane Season. Check back for Swell Info's forecast as the event gets closer.
Swellinfo.com Belmar Pro Forecast
Valid September 14th 2012
We are seeing amazing weather on the Jersey Shore this morning and small, 1-2′ contestable waves with light winds and glassy conditions. Sea breezes are likely to pick up out of the south during the afternoon.
Tropical Storm Nadine is sitting SE of Bermuda this morning with max winds of 70mph. She is anticipated to move northward over the next day before taking an eastward turn. Interactions of Nadine with a stalled frontal boundary off the US East Coast has been creating a substantial fetch of Easterly winds directed towards the Jersey Shore and much of the East Coast. Swells from Nadine and the offshore system will arrive on Sunday.
The final day of the Belmar Pro is looking fantastic. The Swellinfo model is showing offshore swells in the 4-5′ range @ 14-15 seconds. On the beach, we should see wave heights in the 3-5′ range with bigger 6′ and bigger sets possible.  Winds should stay light and conditions are looking good. All indications are for another amazing Belmar Pro final.
Keep up on the latest in the Swellinfo Hurricane Center, and the Swellinfo Monmouth County, NJ forecast.
Stay on top of the forecast on the Swellinfo.com Monmouth County Surf Forecast:
http://www.swellinfo.com/surf-forecast/monmouth-new-jersey.html

Go to Swellinfo.com for free local Surf Forecasts, Surf Reports, Surf / Swell timelines, and more.