Swell Info
…
There is a reason the Belmar Pro consistently gets waves, and its not just because the Surf Gods love us, which I'm convinced they do, but also because the Belmar Pro is scheduled right at the climatological peak of the Atlantic Hurricane Season.
The past several years, the Belmar Pro has partnered with SwellInfo.com, a top surf webcasting site for North America, Mexico, and the Caribbean. For Monmouth County, the Belmar Pro gets a professional, tailored surf forecast each day of the event. Directors have also chosen to hold the contest in September to coincide with warm water, sunshine, and the peak of Hurricane Season. Check back for Swell Info's forecast as the event gets closer.
---
2017 BELMAR INVITATIONAL FORECAST UPDATE: Thursday 8:30pm;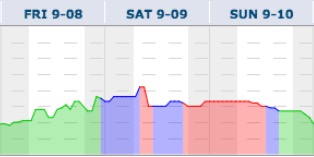 SUNDAY:
Waist to chest high SE ground swell roughly 3ft @ 12 seconds … . Sideshore texture/chop with N winds 10-15mph in the morning decreasing to 5-10mph in the afternoon.
Low: 04:40 AM -0.14 ft 05:15 PM 0.20 ft
High: 10:57 AM 5.19 ft 11:26 PM 4.73 ft
---
Save
Save