Surf Captain, Belmar Pro Surf Forecast
Effective: Sunday, September 12, 2021

Hurricane Larry brought a lot of fun surf to Belmar over the past few days, but we will say goodbye to Larry on Sunday. To finish up the event, we are looking at a mix of knee to waist high ESE swell and building S wind swell.  Expect sideshore conditions creating peaky surf with SW winds around 15mph.  
For more specifics and an up to date forecast updated 4 times per day, check out the Surf Captain
Belmar, NJ Surf Forecast
page. 
There is a reason the Belmar Pro consistently gets waves, and its not just because the Surf Gods love us, which we're convinced they do, but also because the Belmar Pro is scheduled right at the climatology peak of the Atlantic Hurricane Season.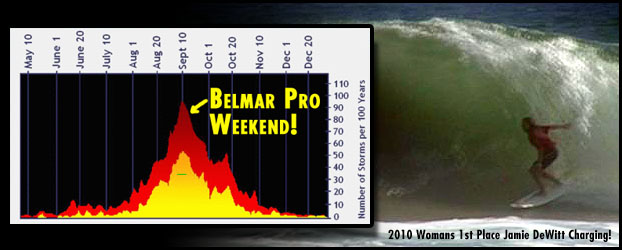 Directors have chosen to hold the contest in September to coincide with warm water, sunshine, and the peak of Hurricane Season.