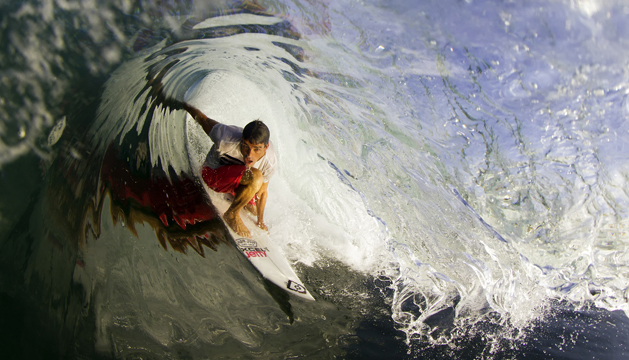 Randy Townsend, Surf City, NJ Photo: Trevor Murphy
There are very few surfers in New Jersey who have had as successful or lengthy careers as Randy Townsend. This Jetty team rider from Long Beach Island was has been on the top of the game since the 90s, competing in every Belmar Pro ever. His winning ways go back to his pro victory at the 2001 East Coast Surfing Championships and the 2002 Unsound Pro. He has stated his case several times, making the final of the Smith Garden State Grudge match and is a force year in and year out in Belmar. He has several semifinal births and got his best-yet trip to the finals in 2013. He won the Tow At event at last year's New Heights Festival in Seaside. Townsend is the Captain of the Harvey Cedars Beach Patrol, which has become a major force in state competition. He is also waiter at one of LBI's finest restaurants, training and working hard all summer and spending winters in Central America.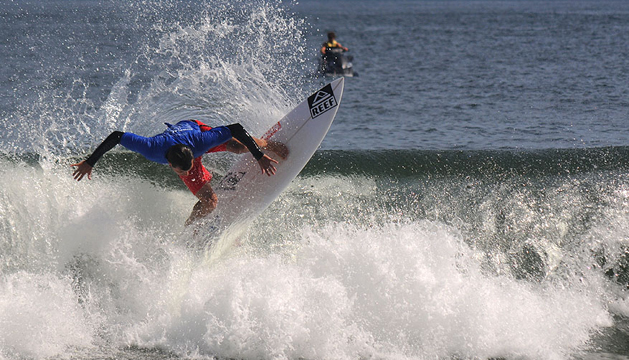 Ben Bourgeois Wrightsville Beach, NC Photo: Chrisner
Ben Borgeois holds the distinction of being one of two surfers to have won the Belmar Pro. He aced the event in 2009 and again in 2013, both years exacting big hacks on smaller, clean faces. It's funny that Benny B isn't best known for his wins – and they have been considerable. He won the 1996 ISA World Juniors and qualified for the ASP World Tour in 2001. And after falling off, worked for seven years to get back on tour. But once he had proved to himself he could do it, he chose the life of the wandering surfer. Supported by Reef from head-to-toe, he has become one of the most storied wave chasers in the world, nailing countless magazine spreads and video clips on tactical strike missions.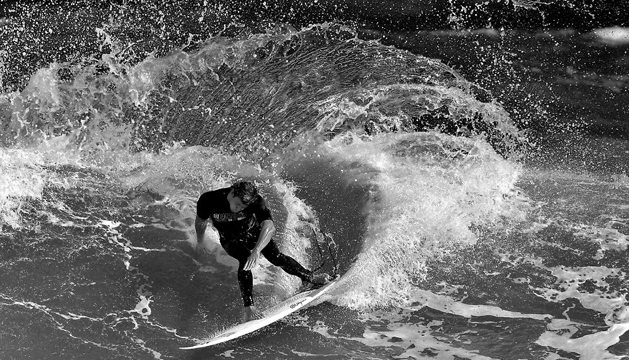 Vince Boulanger Ocean City, MD ~ Photo: Siliato
As the minutes ticked by in the final, the Belmar Pro was close to completion and it seemed a foregone conclusion that a Florida or California surfer would walk away with the 2011 title. But then Vince Boulanger tucked into a backside barrel amid the northeast chop. He came flying out the other end and delivered a crushing death blow to the next section. And with that Boulanger had won the Belmar Pro. He's an unlikely champion, being as not too many surfers from Maryland have made very strong marks outside that state, but the 23 year old could not be denied. He took his Belmar winnings last year and spent two months in Hawaii. Back at home, Boulanger paints houses to support his surf career. He's got some bridesmaid finishes: second in Jr. Mens at the Easterns in 2006 and 2007, second at the 2011 Dew Tour Nike Expression Session, second at the 2012 NY Sea event. He won the Malibu Classic earlier this year in his hometown, but the Belmar win has still proven to be his biggest. He backed it up with a second place in 2013.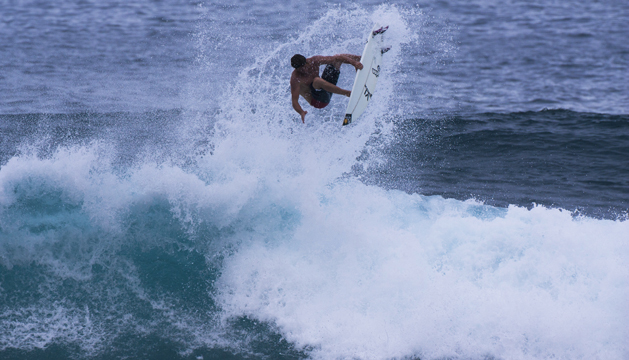 Jeremy Johnston New Smyrna Beach, FL Photo: Patrick Ruddy
If there were ever was a surfer due to win the Pacifico Belmar Pro, it's Jeremy Johnston. Johnston took second place in both 2008 and 2009 in Belmar. His presence is always felt in the Northeast. He won Quiksilver's King of the Peak in 2006, Florida's greatest title, aced the Unsound Pro in 2008 and 2009, and the ECSC in 2010. His list of East Coast wins goes on forever. In 2013,"JJ" did seven events on the WQS including the Pipeline Pro, making a few rounds. Despite his record, Johnson was forever the guy whose sponsor seemed to drop out of surfing. But today, he's found himself at home with Flo Motion and is ripping as hard as ever.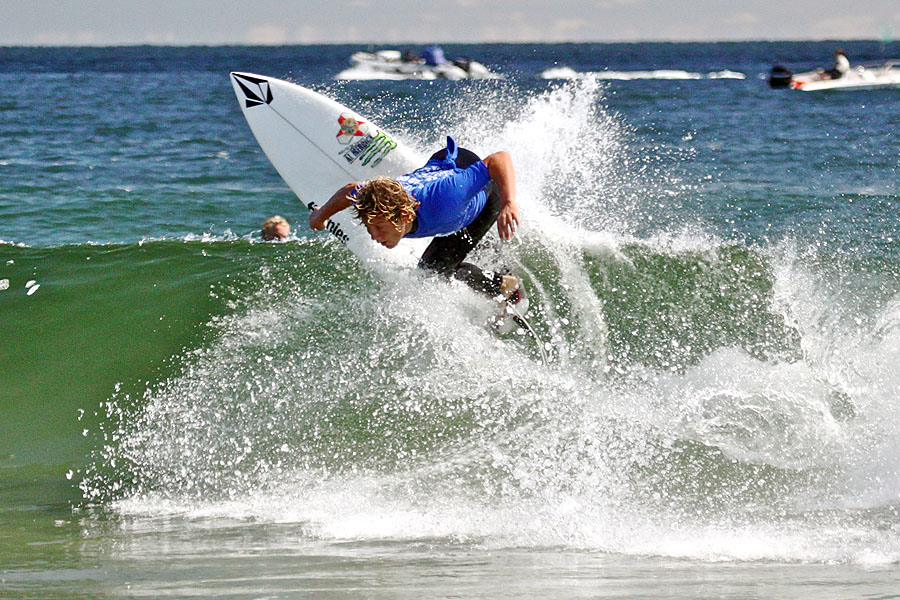 Parker Coffin Santa Barbara, CA Photo: Stockdale
It was a wild weekend back in September 2011. On the same day that brother Conner Coffin surfed his first ASP World Tour event at Trestles, Parker Coffin won the Fins Pro Junior at the Belmar Pro in chunky nor'easter conditions. Coffin was pretty much destined to win after his second place finish the year before. He backed it up with another final birth in 2013. Coffin, from Santa Barbara, a former national NSSA champ, is one of the most exciting up and comers in the country. His most recent ASP win was the Sprite Soup Bowl Pro Junior last year.
Cam Richards Garden City, SC Photo: Kenny Hurtado
Most of the world knows Cam Richards as the surfer who went head-to-head with Dane Reynolds in a social media battle in 2013 to see who would get a wildcard slot into the Hurley Pro at Trestles. But in Belmar, we know him as an East Coaster who rips. Every year, he comes up from Garden City, South Carolina and sets the place on fire in the Pro and Junior Pro. He is a six-time NSSA East Coast Champ and in 2011 won the National NSSA Open Mens title. His best finish to date in Belmar was third place in the Fins Jr. in 2012. Earlier this year, he won the 2-star Ron Jon/Vans Junior Pro over Parker Coffin. Now riding for Vissla, he is very due for a big result in Belmar.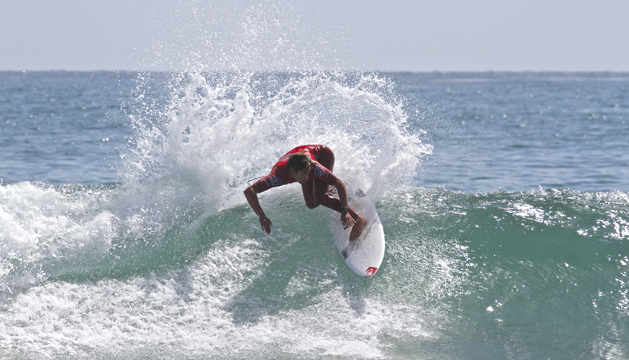 Nic Hdez, Santa Cruz, CA Photo: Courtesy Quiksilver
One of the smartest young competitors, Nic HDez is on the way up. HDez has surfed Belmar a few times and knows the ropes. This year, he was selected to US National team and surfed the ISA World Juniors in Ecuador and got his biggest result by capturing the under-18 National Title at the Surfing America Championships at Trestles in June. Competing since he was a grom, HDez already has an Under-15 NSSA West Coast Championship. Riding for Channel Islands and Quiksilver, and training with ASP Rookie of the Year and good friend Nat Young are all steps in the right direction.
Michael Powell Ocean Isle Beach, NC ~ Photo: Keith Ketchum
When a promising young surfer graduates from high school, should he go to college or pursue a competitive career? How about both? Last year, Michael Powell graduated from the University of North Carolina at Wilmington with a business degree, but he also edged out Ben Bourgeois in the 6th Annual Reef Sweetwater Pro, a major East Coast pro event. That's quite a versatile fella. Powell made the finals in Belmar last year and led until the final minute. He's an NSSA National Collegiate champ and led Sweetwater Surf Shop to several mid-Atlantic wins in the Oakley Surf Shop Challenge. He still works in finance on the side, but with Reef supporting him, he's free to take more titles this year.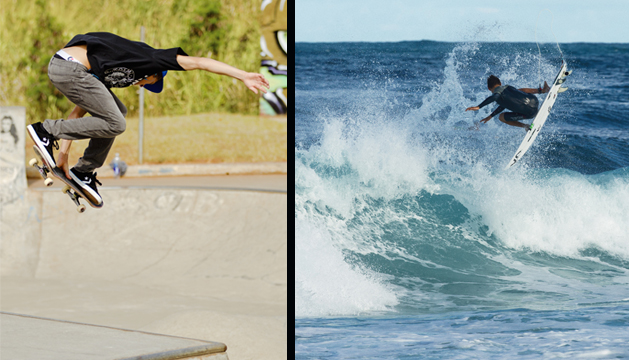 Kalani David Sunset Beach, HI ~ Photo: courtesy RVCA
Don't be surprised if you see a young Hawaiian lighting up the Belmar Skatepark at 16th Ave. and Railroad Avenue. It might be 15-year-old Kalani David, of the North Shore. David, who made the finals of the Fosters Belmar Pro last year, is one of the greatest modern surf/skate crossover athletes. He won the Belmar Am weekend Boys division in 2010, aced the 2012 NSSA Open Juniors and recently took the North Shore Surf Shop Pipeline Junior Pro.
Who can forget the skinny young kid dropping sick air reverses off the Eighteenth Ave. jetty last year in the finals? David likes to keep the surf and skate constants in his life. He's also a pretty solid drummer. His goals are to make the ASP World Tour, but for now watch out for him in the Fosters Pro and the Fins Junior.
Michael Dunphy Virginia Beach, VA ~ Photo: Burkard
No one will ever forge the 2010 Fosters Belmar Pro, or the giant wave that Michael Dunphy took off on in the final. He came around an avalanche of whitewater, only to throw on the brakes and get shacked out of his mind to win the whole event. With a solid spot on the Hurley Team, Dunphy is a competitive animal. In addition to Belmar, he recently took first at the Ron Jon Easter Surf Fest and 4th at the Volcom Qualifying Series World Championships. That's not even mentioning what he's put his passport through the last few years – Australia, Indo, Fiji, Mexico, Hawaii, El Salvador, Panama, Nicaragua, Costa Rica, Canada, Puerto Rico, Portugal, France, and Spain.
Sam Hammer Lavallette, NJ ~ Photo: Ann Marie Coen
Hammer was the last NJ man standing at the Belmar Pro in 2005. The Lavallette local won the Smith Optics Garden State Grudge Match that same year.  He was also a member of the East Coast team at the 2006 X Games as a 'Puerto Escondido specialist' and aced the Unsound Pro last September, pocketing $11,000.
But we know Hammer as the guy who put Jersey on the map by staying in Jersey. He's become the most visible surfer in the Northeast by showing what can be done in huge winter swells at Jenks, Casino Pier, and Bay Head. In 2008, he added another Grudge Match title to his resume with an eight-second barrel off Casino Pier and a third in 2009. This star of "Dark Fall" won the very last Smith Optics Garden State Grudge Match in 2013.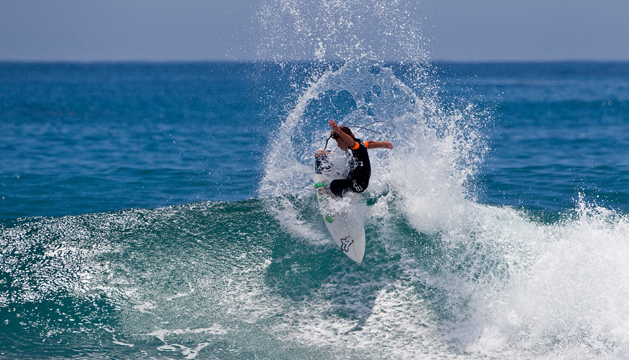 Luke Marks Melbourne, FL Photo: Nate Adams/ESM
Wondering about the future of East Coast surfing? Look no further than the young Floridian, Luke Marks. Let's just say that when the very first Belmar Pro came to town, Marks was only five years old. This Melbourne Beach kid regularfoot has a tight air game and cracked the tough line-up at Sebastian Inlet at a young age. By 10, he had already traveled to more surf spots than most do in a lifetime. Marks' record already speaks for itself with NSSA East Coast Championships and great results in the Surfing America Prime series, the most recent being second place at the Surfing America Prime in New Smyrna in March. He's also been thoroughly blowing up in Florida.
Rob Kelly Ocean City, New Jersey ~ Photo:
"Raw" Rob Kelly crushed the amateur East Coast ranks. He took second at the Junior Pro and first in Junior Mens at the 2005 ECSC. He led Ocean City High School to four consecutive State High School Championships and two Red Bull Rider's Cups. Then, in 2007, Kelly won the Open and Junior Mens at the ESA Easterns, the NSSA East Coast Open Mens, and made the finals of the Oakley Heritage Junior Pro It was a breakout year that led to him turning pro and more results. The goofyfoot from OC has now moved on to the next stage in his career, the dual role of surfing professionally and working for Billabong's marketing department. He overcame a tough shoulder injury and in 2011 went to the quarterfinals of the Vans Pro at the ECSC. These days, he holds down a marketing and pro surfer position with Billabong, training and chasing some critical waves.
Brian Hewitson Indialantic, Florida ~ Photo: Chris Wilson
Hewitson not only has some history at the Belmar Pro, he also has some serious local roots. His father was one of 12 and his mother one of five children who all grew up in the Belmar area. Hewey is a former ASP East Mens Jr. Champ and surfed the ASP's World Tour in 1999 among the elite 44 surfers in the world. He made the finals of Belmar in 2003 and came escaped a hurricane-ravaged Florida in 2004 with his family to come up and win the Fosters Belmar Pro. That year started as a slugfest in huge southswell and ended as a chess match in tiny windchop. These days, he's a sales rep for Sanuk, Stance socks, Island Daze, and Ocean & Earth and has five children of his own. He enjoys coming back to Belmar every year to see family, surf punchy beachbreak, and maybe get a night in Atlantic City. He will surf both the Pro and the Masters.
Dean Randazzo Somers Point, NJ ~ Photo: Sergio
"The Jersey Devil" remains the first and only surfer from New Jersey to have ever competed on the ASP World Tour. His list of competitive accomplishments are endless, including two X Games Gold Medals, X Games MVP, first place in the Red Bull Icebreak in 2004, the finals of the Belmar Pro that year, and two Smith Optics Garden State Grudge Match belts. But it's the four battles he has won over Hodgkins disease, and the support he has given to others through the Dean Randazzo Cancer Foundations that inspires us. After one such battle in 2009, his first surf session after months of recovery was his Belmar heat, where he advanced and went on to the semifinals. Randazzo has surfed a few star events in Mexico and Central America this summer and he is ready for Belmar.
Zion Balbuena Cabarete, Dominican Republic
Balbueana regularly finishes in the top five of the Dominican Surfing Federation's National Ranking. He was born in 1986, in Sosua, Dominican Republic.  A member of the Dominican Surf Team, he is credited with pushing his team forward with his results. In 2011, Zion participated at Belmar, receiving one of the highest wave scores for the event. His dynamic surfing style, combined with his radical and progressive maneuvers capture the attention of photographers and spectators alike. He has been featured on Surfline and TransWorld Surf. Zion recently competed in the Reef Classic Panama (ALAS Latin Tour) at Playa Venao, Panama in 2011, and the Volcom Catfish Surf Series in Puerto Rico, 2012. Zion spent two months surfing and training in Santa Catalina, Panama in the summer of 2012, and returns to the Belmar Pro with renewed confidence.
Mikey Ciaramella Stone Harbor, NJ ~Photo: Joe Ciaramella
New Jersey's next likely competitive threat may come from a very unlikely place – Stone Harbor. And that kid may be the 2010 Belmar Amateur Weekend Jr. champ, Mikey Ciaramella. With competitive smarts of a surfer much more experienced, Ciaramella has completely owned the amateur ranks in South Jersey for years and has carried the Middle Township High School Surf Team since he was a freshman. He also took third in Explorer Mens at the NSSA Easterns. Last year, he event posted a very impressive equal third place at the very competitive Garden State Grudge Match, before heading off to shoot in Hawaii and Puerto Rico.
Royce Weber  Surf City, NJ ~ Photo Zach Diamond
Want to buy that dream house on Long Beach Island? Royce is your man. 24-years old from Surf City, Weber has a few Belmar events under his belt. He has traveled to Costa, California and Hawaii, as well as throughout the Northeast, which is still his favorite. He will be graduating from Stockton College in December with a degree in accounting, but keeping his job at Oceanside Realty where he's been a real estate agent for four years. He and Conor Willem are always working on video clips for wastedyouthsurf.com.  He finished an equal 9th at the Unsound Pro this year, and won the Lock Stock and Barrels event in Rockaway, NY this summer as well.  He placed third at the 2009 Mens Eastern Championships and looks forward the Belmar Pro because it is a chance to compete against the East Coast's best surfers as well as Cali or Hawaii. In 2013, he even bested surfing idol, Tom Curren.
Nick DeLisa Belmar, NJ ~ Photo: Ryan Struck
Nick DeLisa may just be doing the Belmar Pro to represent Eastern Lines, but that's as solid a reason as any. DeLisa has made the round of 48 before, so he's no slouch. He's a blue-collar dude, meaning he paints houses and works at Eastern Lines to get himself around the world. Last winter it was Hawaii for three months.  And the guys he meets from around the globe all come to his house when they're in town for the Belmar Pro.  He also has an associate's degree in Criminal Justice and is working toward a bachelor's in National Security. To be honest, he's most looking forward to the start of "Locals Summer," that starts in September.
Leon Gough Boca Chica, Dominican Republic
How many surfers in the Belmar event shaped his own board? A custom surfboard builder (Gough Surfboards), Leon resides in Cabarete on the island's North Coast. Born in 1988, Leon Gough is from Boca Chica, Dominican Republic.  A member of the Dominican Surfing Team, Leon has represented at international competitions such as the Quiksilver ISA World Junior Surfing Championships 2006 in Sao Paulo, Brazil, the Billabong Pro Latin Cup Peru 2006 (ALAS Latin and Caribbean Tour), and the VII Pan American Surfing Games Peru 2006. Leon Gough has surfed in such locales as Norway, Mexico, and recently competed in the Reef Classic Latin Pro Panama in Playa Venao, 2011. Leon has many top competition wins to his credit, and scored first place in Men's Open Surf at the 'Aloha Pro Mañanero', the fourth annual Dominican Republic National Competition in August.
Chris Kelly Ocean City, NJ ~ Photo: Trevor Moran
Ocean City is New Jersey's pro surfer factory. Chris Kelly, younger brother of Rob Kelly is just one of those kids to come out of OC. "Quiz" took first place in the Quiksilver GromTest in 2010 and first at the NSSA High School State Championships in 2009.A longtime team rider for 7th St. Surf Shop, contests aren't exactly the regularfoot's thing. He's more about traveling, finding new waves and creating.Kelly is currently attending Atlantic Cape Community College, and teaching at 7th St. Surf Shop's surf camp.
Balaram Stack Point Lookout, NY ~ Photo: Danny Stockdale
Who's the most high profile surfer from the Northeast right now? Well, that would be Balaram Stack, of Point Lookout, New York. Stack has been on the global radar since he was 13 years old at a Quiksilver Camp in Montauk. Now a graduate of the "Young Guns," program, it's all been forward momentum for Stack, who represents Unsound Surf Shop.Stack's results include winning the Allyance Pro Junior in 2008, the Unsound Pro in 2010, and has been a force every year at Belmar. Last year, he lit up Belmar going for huge backside 360 airs. He spent the winter charging Hawaii and hanging on the Gold Coast. Of course, the ASP Quiksilver New York Pro coming to Long Island was the highlight of his year.