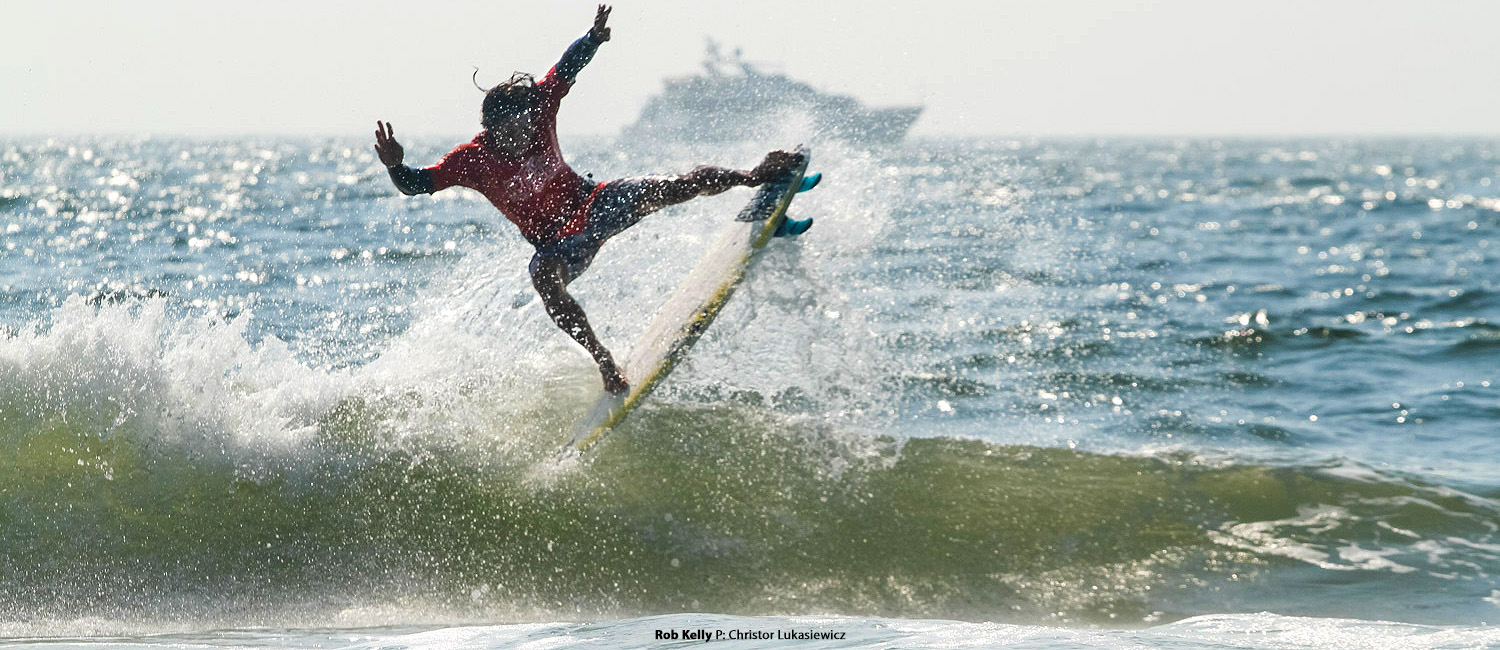 Just enough south wind blew all day Saturday into Saturday night from a small frontal system to keep the marginal south swell lingering enough to allow us to run some heated battles! We woke up to Finals day greeted by light offshore wind again with waist to chest high waves that just made it through the mid day high tide. Topped off with a literally picture perfect beach weather that drew a packed audience for the competitors and made for a very successful event!
Before talking about the winners, 2016 will be known for some breakthrough performances by a few locals that have been grinding at the Belmar Pro for years with unsatisfactory results. Alexa Muss, SRH's Jack Murphy and Belmar local Brian Dalton both made the finals in their divisions out-surfing their competitors to win their first heats, however, it was Belmar Locals Nick DeLisa, Colin McNamara and Logan Kamen who all blazed through 4 rounds of competition with sharp, calculated, progressive surfing. They knocked out a few NJ and visiting heavyweights along the way making it to Round 5 only to lose very close, well fought battles. Their respectable performances were noticed and it made for a great vibe at the event, the stoke was super high.
For the Womens division, their final was held right around dead high tide, but all 4 finalists put forth light-footed approaches that made for an exciting exchange of peaks being picked off both left and right. Monmouth Beach's Alexa Muss, South Jersey's Belmar Pro regular Maddie Petersen and Hannah Blevins from FL all surfed a very close heat with similar scores as they picked off several long rides milking them to the beach. But it was the sharp, light-footed and powerful approach of South Jersey's Cassidy McClain that out-surfed her competitors for the win. Cassidy had a few multiple maneuver waves in which she extended her turns with a power and style that looked a notch more progressive in this event than her competitors.
The main Men "Invitational / Open" event was a 32 Man WSL-style format with 2 initial double-elimination rounds, 3rd, 4th & 5th Rounds, Quarters, Semis, Final. The first 16 of the draw were Invitational till August 10th deadline in which any remaining invites not confirmed were made available as "Open" slots for registration. While Belmar Pro regulars like 3x Champ Michael Dunphy (competed in the Azores Pro) and Ben Bourgeois (fresh back from a long trip), were not able to make it this year, some regulars returned, including a return to competition by one of NJ's best, Sam Hammer. Hammer surfed solid into Round 4 until he was narrowly taken out by eventual event winner and one of the two in-form surfers of the event, CA's Kevin Schulz. The other in-form surfer of the event was South Jersey's ripper and fellow Billabong teammate with Hammer, Rob Kelly. Both Schulz and Kelly surfed incredibly light-footed yet powerful games throughout every round until they met in the final. Both surfers continued their form surfing strong, milking the remainder of the swell for everything it had. After a close battle going wave for wave, Kevin Schulz surfed just sharp enough to very narrowly edge out Kelly for the win. Kevin has been grinding away at the event for the past 4 years and his persistence and consistency finally paid off.
Congrats to all the competitors, event sponsors, the staff and everyone who helped, and all the crowd on the beach each day that made the scene of the contest a great event. Stay tuned this winter for updates and news regarding bringing back a bigger and better full Belmar Pro event next year! See you in 2017!
---

2016 FINS Belmar Invitational brought to you by Eastern Lines:
Men Invitational Open:
Semi 1: 1. Kevin Schulz, 2. Logan Hayes Semi 2: 1. Rob Kelly, 2. Simon Hetrick
Final: 1. Kevin Schulz, 2. Rob Kelly
Womens Open Final:
1. Cassidy McClain, 2. Hannah Blevins, 3. Maddie Petersen, 4. Alexa Muss
Legends Final:
1. Reno Abellira, 2. Jack Murphy, 3. Jerry Matthews, 4. Dean Schoonover
Master Final:
1. Randys Townsend, 2. Dean Randazzo, 3. Jack Murphy, 4. Brian Dalton
Longboard Final:
1. Steve McClean, 2. Daniela Stewart, 3. Kevin DeWald, 4. Fritz Belmore
---
Photos from Day 3 Finals of the 2016 FINS Belmar Invitational by Daniel Stockdale – Visit the Photos page for more photos from the event:
Finals Day photos by Christor Lukasiewicz – http://www.christorphotography.com/:
All Photos (c) Belmar Pro
2016 Belmar Invitational is brought to you by:
---

Save
Save
Save